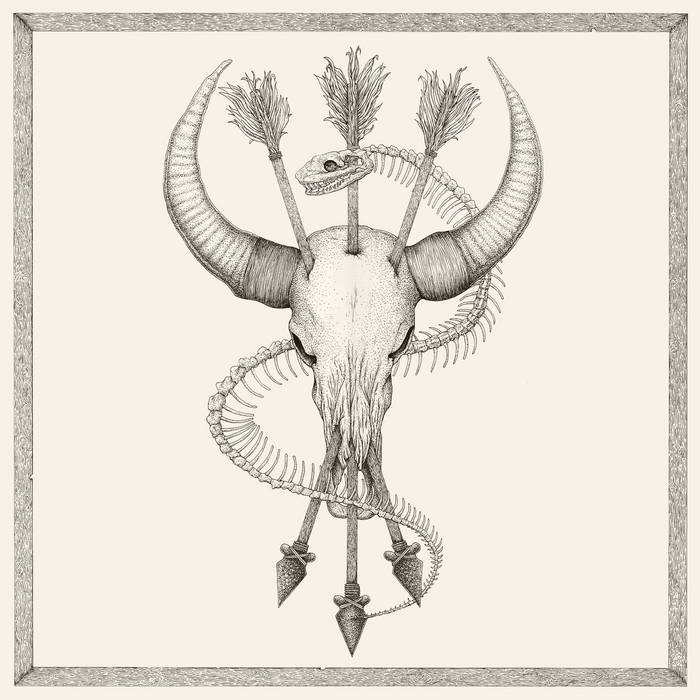 Wyoming's Reproacher's cold and unforgiving sonic nature mirrors the emptiness of the desolate plains that stretch across their home state. With raw, dissonant sonic assaults, and lyrics that deal with the futility of existence, the Cheyenne quartet create an atmosphere of complete aural devastation. Since their 2011 self-titled release, the band have been gradually becoming darker, more unhinged and have been delving deeper into abstraction. With Nature's Bastard, their third full-length offering, Reproacher have completed their transformation. The darkened metallic hardcore stylings of their previous releases have almost all been eradicated from the scene in favor of something more dismal, complex and sinister sounding. This is the Reproacher that Reproacher always wanted and needed to be.
Nature's Bastard features 38-minutes of chaos spread across 10 tracks. These tracks are angular, ugly and rife with dissonance and an overall murky production style. The album could be compared to the works of Gaza, Plebeian Grandstand and similar acts that combine intense hardcore and metal with mathcore sensibilities. But these comparisons merely scratch the surface of what Reproacher are trying to do here, as they have put their own bleak and claustrophobic spin on the whole style.
The album begins with a dreary, sludgy crawl on its intro track. The monolithic, malformed chords march sullenly across three minutes before bleeding into the maelstrom of noise that is "Celestial Blackout". Down-tuned guitars bellow bestially and vomit dissonant melodies, while a propulsive rhythm section and acidic vocals collide head-on with the six-stringed chaos for ultimate destruction. "Poisonous Miasmas" follows shortly after with a steady procession of nauseating, writhing guitar riffs and metallic, scraping bass lines. The tumultuous tune switches feverishly between sludge-ridden smackdowns, hardcore-tinged stampedes and cacophonous bursts of noisy technicality throughout, constantly keeping the listener on their toes.
"Sundown" shows Reproacher briefly returning to their hardcore roots with an onslaught of grimy, d-beat laden mayhem. But whatever ties to the band's early work it has is quickly marred by dense walls of dissonant sounds and atonal melodies. "Cold Blue Clay" trudges out of the gate with towering, sludgy riffs that stomp upon the listener like an unfathomable beast from mythological texts. After this gloomy beatdown, the band engage in a lengthy blitzkrieg of discombobulating guitar acrobatics before returning to the song's opening sludgy cataclysm. The album is pretty sonically consistent throughout, but the band pull off a surprising and welcomed surprise with the album's penultimate and title track. "Nature's Bastard" revolves around a repetitive, sludgy groove and ethereal clean vocals throughout the majority of its duration before ending in a climax of world-ending doom. The song is very reminiscent of some of Converge's more subdued and slower material, albeit noisier.
Reproacher have definitely found their niche with Nature's Bastard. These vile, intense and unwavering tracks are some of the best material the band has ever written. These chaotic aural monstrosities grasp the listener in their jaws and rip them to shreds. Though the production lacks in some areas, the overall "swampy" mix adds to the album's aesthetic and overall mood. In short, this is arguably one of the more vicious hardcore/metal/what have you albums of the year thus far.
Rating: 9/10
Release Date: June 3, 2016
Label: Crown & Throne Ltd.
Favorite Tracks: "Celestial Blackout", "Poisonous Miasmas", "The Endless Tide", "Cold Blue Clay" and "The Great Equalizer"
For Fans of: Gaza, Crowpath, Clinging to the Trees of a Forest Fire and Bone Dance