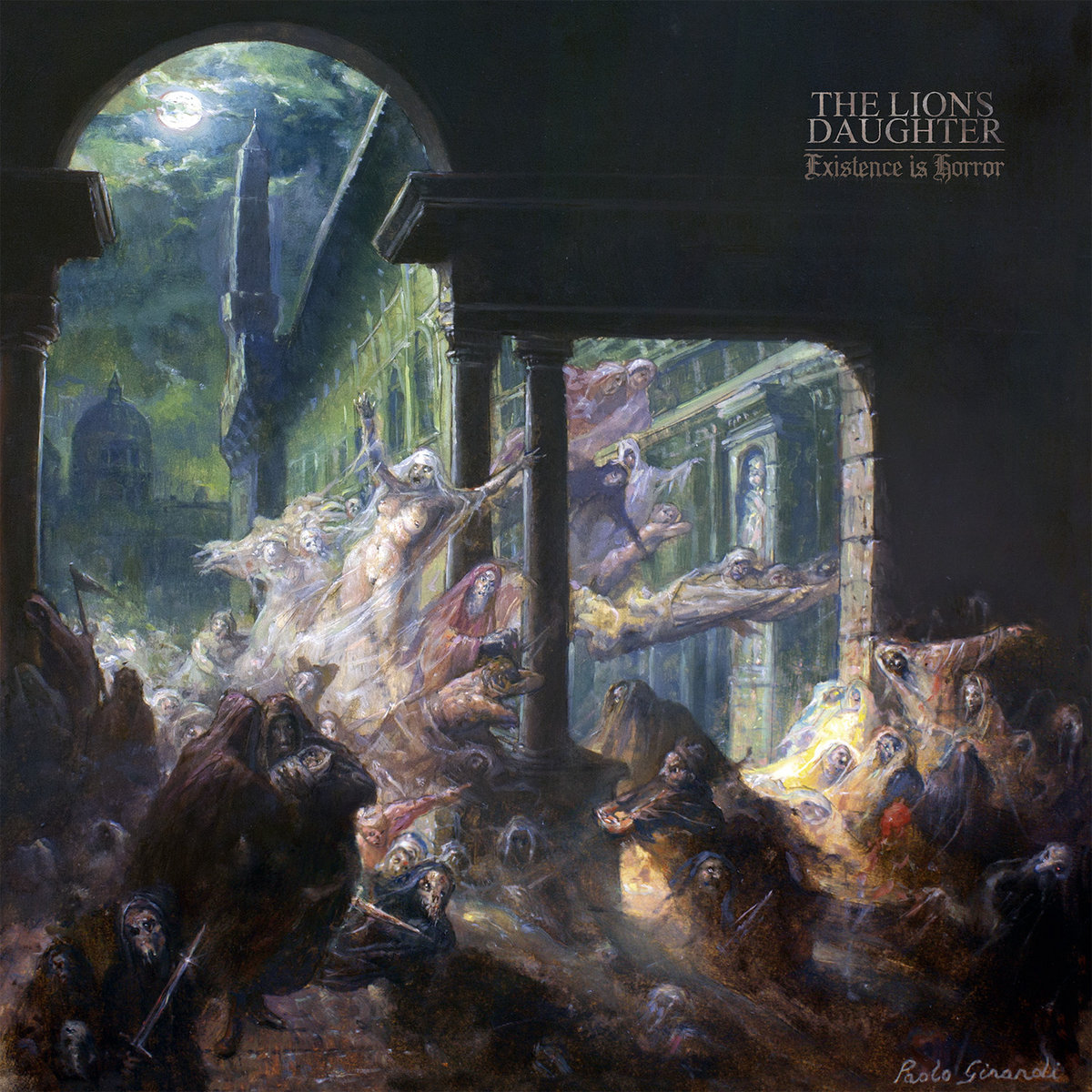 St. Louis' The Lion's Daughter posses a grim, confrontational sound that lies somewhere between black metal, sludge and doom. Some describe it as "blackened sludge", while the band describe themselves on their Facebook page simply as "unpleasant". Both terms are applicable here, but in the end it doesn't matter what listeners choose to categorize the music as because all that matters is that it is menacingly heavy. Existence is Horror, the band's newest offering, comes three years after their acclaimed collaboration with Indian Blanket, and four years after their last full-length album, Shame on Us All. With each release the band have gradually pushed the limits of their sound and Existence is Horror is the culmination of this sonic refinement. Fans of metal most foul will want to delve deep into this monstrosity.
"Phobetor" opens up the 40-minute recording with about 90 seconds of pulsating bass lines, cold and repetitive chords and sampled tortured screams. This short intro bleeds into the album's first official movement, "Mass Green Extinctus". This track sets the stage for what it is to come with its bleak sludge dirges that are wrapped in dismal melodies. This aural doom and gloom is quickly followed by tremolo picked madness and dizzying, angular leads. Complex drumming, venomous bass lines and throat-searing vocals aid the guitars in their shape-shifting assaults. Most of the record behaves like this track does; constantly shifting in style and approach throughout. Tracks may start off in a sludge or black metal like manner but never end the same way.
"Nothing Lies Ahead" stampedes forward with barreling black metal adjacent grooves that are eventually taken over by chaotic flurries of dissonant riffs and off-kilter structures. The final one-two punch of "They're Already Inside" and "The Horror of Existence" close out the record on a strong note with a wealth of life-ending riffs. "They're Already Inside" unleashes pure unbridled chaos during its hellacious five-minute duration; churning out myriads of dissonant blackened blitzes and angular, nauseating, malformed instrumentation. "The Horror of Existence" lets its doom and sludge flags fly high as it proudly showcases the album's most apocalyptic moments with monolithic, sprawling grooves and towering presence.
Existence is Horror is deeply rooted in sludge but listeners will see that is not all it has in store. The album's frequent style and tempo changes always keeps one on their toes, while it carefully stays true to its roots. Some of the transitions and stylistic shifts can be messy, but it works more often than it doesn't work. The Lion's Daughter have created their most solid recording to date and will hopefully be the first of many solid releases. Existence may indeed be horrible, but listeners should at least keep existing long enough to hear this record.
Rating: 8/10
Release Date: January 8, 2016
Label: Season of Mist
Favorite Tracks: "Mass Green Extinctus", "Nothing Lies Ahead", "Dog Shaped Man", "They're Already Inside" and "The Horror of Existence"
For Fans Of: Lion of Tsavo, Tombs, Agrimonia and Abstracter