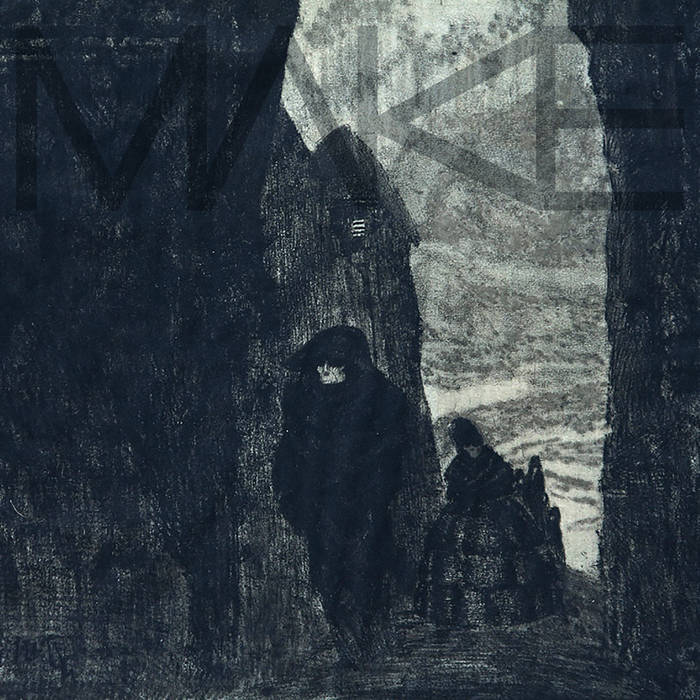 MAKE embark on their darkest sonic journey yet with their third full-length recording, Pilgrimage of Loathing. Its title and grim cover art is very telling of where their sound takes them on this record. The meditative psychedelia that flourished on the North Carolina outfit's previous full-length, The Golden Veil, has almost been fully discarded in favor of raw, corrosive doom that dips its tendrils in black metal, sludge and noise. This 40-minute, brooding monstrosity, while not the band's most intricate work, is arguably their heaviest and meanest sounding work to date.
The six-track effort begins with primal percussion and haunting, meditative ambiance on "The Somnambulist". After this brief ethereal intro, the nine-minute track unleashes a choking whirlwind of thick, tremolo-picked blackened doom riffs that hover above like a menacing storm cloud. The track cycles between black metal adjacent blitzes and thunderous doom marches throughout, while making  room for an ambient, clean guitar-driven interlude complete with droning vocals. "Birthed Into a Grave They Made For You" opens with a galloping procession of dissonant guitar guitars and metallic, throbbing bass lines, before launching into a pummeling display of sludge process that is propelled by a muscular rhythm section and acidic harsh vocals. The band briefly abandon their doom and gloom for a lengthy psychedelic jam session on "Two Hawks Fucking". Spectral, transcendental guitars hover and intertwine with each other on this desert spiritual tune.
The viscous, chugging sludge fest of "Human Garbage" arrives explosively after "Two Hawks Fucking" completes its spiritual journey. The song cycles between chugging misanthropy and hazy-eyed sludge/stoner grooves, while the vocals inflict their own brand of pain with a myriad of bitter screams, shrieks and yells. Following that spiteful tune is a slow, grimy and undeniably heavy rendition of The Stooges' "Dirt". Thick, primal guitars conjure bestial grooves that drag listeners through this murky seven-minute cover, while peppering the doomed sprawl with noisy, atonal outbursts for good measure. The record ends on a melancholic and monolithic note with the nearly nine-minute "Nothing". Here the band attempts to combine all of the nuances explored on the records' previous tracks into one towering beast. Not surprisingly, MAKE succeeds. A repetitive clean guitar groove surges through the first half of the tune while layers of psychedelic melodies and droning, mantra-like vocals slowly coming into view. After four-minutes of this sprawl, the song embarks on a final cataclysmic march to its fiery end. Somber, crushing doom metal gives way into sludgy assaults, and further into blackened stampedes that are accentuated by cacophonous flurries of noise and nauseating guitar dissonance.
Pilgrimage of Loathing excels in bringing the dark side of this doom trio to the surface. Its raw black metal characteristics and the gritty sludge and doom are indicative of the band's aggressive tendencies, while its sorrowful melodic atmospheres highlight their solemn side. Combine the two and listeners have a pretty bleak album on their hands. Those looking for a solid doom metal record with some eccentricities will want to check this out.
Rating: 8/10
Release Date: July 15, 2016
Label: Accident Prone Records
Favorite Tracks: "The Somnambulist", "Two Hawks Fucking" and "Nothing"
For Fans Of: Khemmis, Thou and Buried at Sea