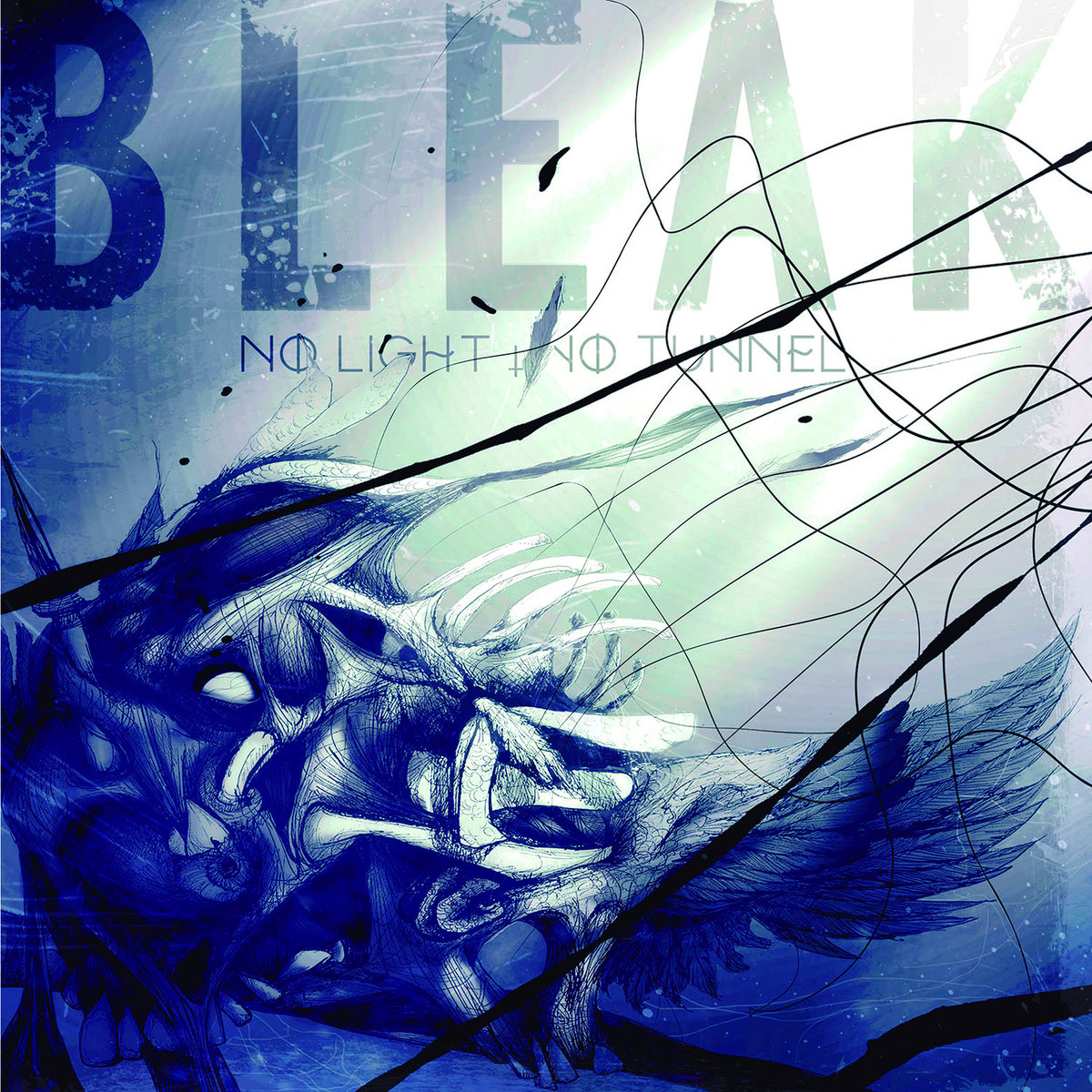 New York metallic hardcore/chaotic metalcore outfit Bleak made quite an impression on extreme music fans with their 2015 debut, We Deserve Our Failures. Their multitude of previous splits and EPs wouldn't prepare listeners for the dismal and nauseatingly complex gutter bombing they would behold on that half-hour of madness. Bleak stayed true to their namesake by offering dark songs filled to the brim with hopelessness, magnified by unorthodox instrumentation that verged on abstraction, while staying firmly rooted in hardcore and metalcore. Needless to say, it was a grim and gruesome feat. Now, not even a full year later, the Syracuse outfit returns with their second full-length offering. The aptly titled No Light, No Tunnel sees the band returning to the blackened sonic abyss once more with 10 new tracks of blistering, flesh-ripping heaviness.
Compared to its predecessor, No Light, No Tunnel appears to be more stripped down and straightforward. While the music is still extremely chaotic at times, a lot of the vitriolic, angular insanity present on We Deserve Our Failures is substituted for more metallic hardcore-tinged stampedes.  More "experimental" cuts like the moody "Century of Youth" or the sprawling "Eternal Silent Darkness" do not make an appearance on this new recording either. As far as composition is concerned, the songs on No Light, No Tunnel are a bit of a step backward in comparison to We Deserve Our Failures. But while it is not as unhinged and exploratory as its predecessor, this 33-minute powerhouse still brings the gross heaviness in abundance.
Noisy harmonics and palm-muted assaults open up the record on "Teeth". Dissonant guitar riffs twist and writhe above a punishing rhythm section and are propelled by vocalist Michael Watson's anguished screams. "Cut Throat Rapture" follows next with an absolutely life-ending opening riff that combines bludgeoning chords with elaborate, atonal melodies. The song then embarks on a dense hardcore stampede that is peppered with the occasional noisy outburst and is brought to a close by a vicious, sludgy beatdown. "No Time" unleashes pure sonic hell with its deadly procession of dissonant, scraping riffs and mosh-worthy metallic hardcore, while "Crawl" cycles between groove-heavy assaults and churning guitar-generated cacophonies. Then there are songs like "I Can Not Die" and "Crowley", however, opt for straightforward and thrashing metallic hardcore structures that hark back to the early days of the genre and casually nod to bands like Converge and Turmoil.
While it's not as overbearingly complex and grim as We Deserve Our Failures, No Light, No Tunnel nonetheless delivers a wealth of punishing, antisocial extreme metal goodness. Bleak's penchant for vile angularity and atonal grotesqueness, combined with their hardcore roots, makes for a vicious and uncompromising listen. No Light, No Tunnel is another solid record of unbridled destruction to add to the band's already impressive discography.
Rating: 8/10
Release Date: July 8, 2016
Label: Hex Records
Favorite Tracks: "Teeth", "Cut Throat Rapture", "Needles" and "No Time"
For Fans Of: Coalesce, Botch, Crowpath and Gaza