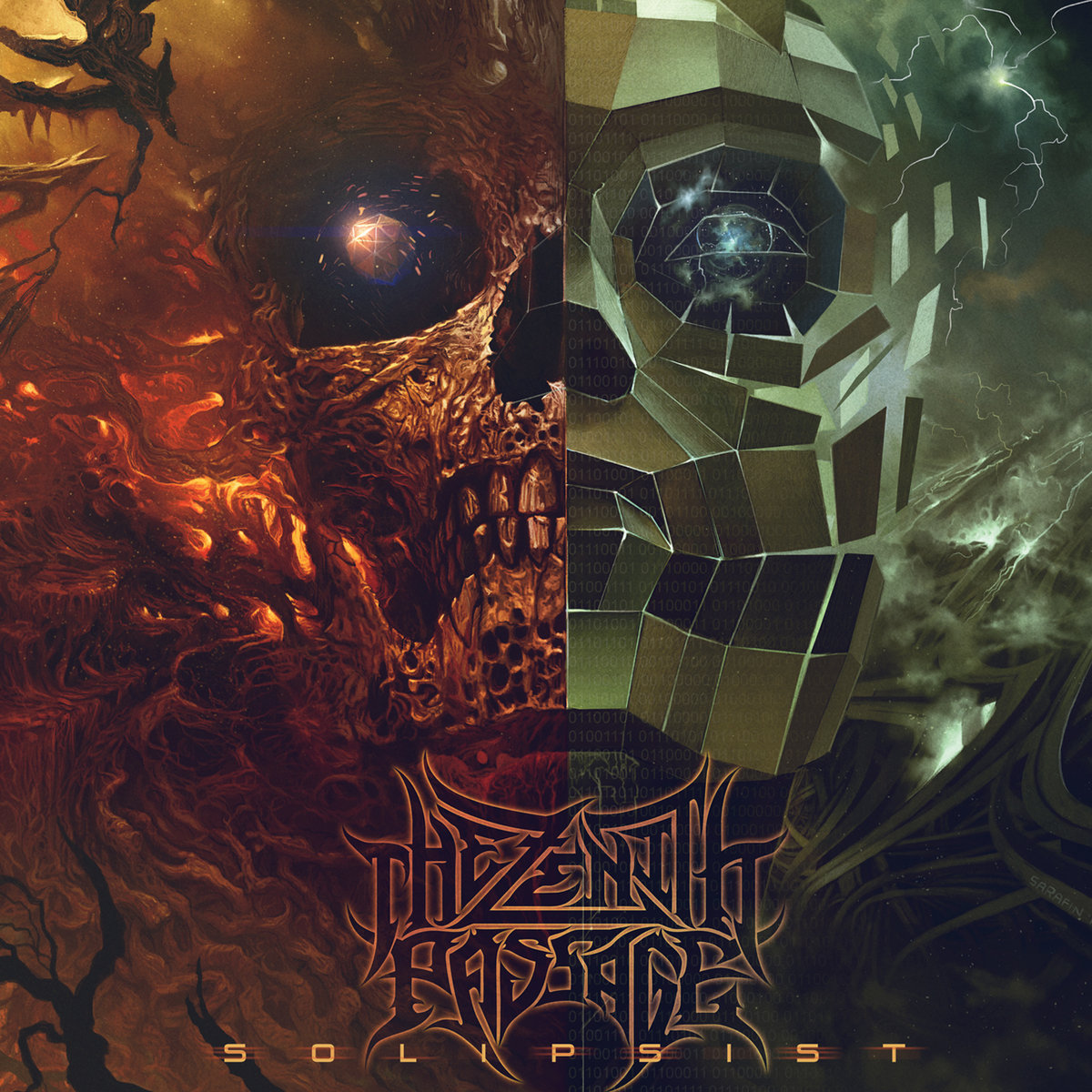 Bringing together musicians who have spent time with the likes of The Faceless, Fallujah and All Shall Perish, The Zenith Passage serves as a vessel for these virtuosic musicians to spread cosmic technical death metal to ears worldwide. The California act's sound casually nods to those that inspired it like The Faceless and Spawn of Possession, while maintaining its own identity. Though the band's sound has a similar approach to that of Planetary Duality-era The Faceless, and some people may be quick to label the band as "copycats", further exploration will show that The Zenith Passage merely use that influence as a jumping-off point and that their sound is more visceral, hard-hitting and eclectic. Solipsist, the band's full-length debut, is one of the few newer technical death metal records that successfully revitalizes a slowly stagnating genre.
Despite its density, Solipsist is a somewhat brief listen, clocking in at just under 40 minutes in length. The record seldom remains idle and is pretty consistent in dishing out discombobulating, yet catchy interstellar death metal throughout. These tracks are full of tastefully complex instrumentation that sits at the crossroads between brutality and technicality. The guitars shift frequently between chugging, galloping beatdowns and erratic displays of riff acrobatics throughout the record, as well as leave space for some impressive transcendental leads and solos. Spacey ambient interludes that are often complimented by jazz-adjacent guitars and expressive piano work are peppered throughout the album and are often used as segues between tracks. Finally, the album is rounded off by intense, otherworldly drumming and venomous death metal vocals.
The record kicks off with a brief, glitchy, electronic-tinged intro titled "Holographic Principle I: Emergence", which bleeds directly into the album's first blitzkrieg of riffs, "Holographic Principle II: Convergence". The track stampedes out of the gate with off-kilter rhythms and boundless displays of guitar virtuosity, which range from sanity-eradicating brutality and quick, jerky melodic riffs. Quirky electronic keys ride out sci-fi scales during the track's most intense moments before the song dissolves into an airy, cosmic bridge full of soulful guitar leads, only for the track to return to tech death supremacy once again. The next two tracks, "Simulated Reality" and "Deus Deceptor" are a one-two punch showcasing impressive musicianship and the band's affinity for sonic eccentricity. "Simulated Reality" spices up its massive riffs and blistering bursts of speed with thick layers of ambience and robotic clean vocals. "Deus Deceptor" features dizzying, rhythmically-jarring riffs that frequently stop and start in an angular, misshapen fashion, which will rip and shred listeners into bloody bits. Other tracks to briefly touch upon include "Dreamsphere"; an unsurprisingly dreamlike track  that is composed fully of ethereal atmospheres and jazzy keys. "Hypnagogia" chooses to splice its melodic death metal assaults with choral and orchestral accompaniment, while "Luminary Singularity" opts to let the technical side of the band sound take a breather in favor of some gargantuan, angular riffs and otherworldly solos.
The only real negative aspect of this record is its use of interludes. Though there is nothing wrong with these extraterrestrial ambient pieces, almost every track has one attached to the end of it, which becomes rather redundant after awhile. But nitpicky things aside, Solipsist is a super solid tech death release. The Zenith Passage expertly craft aural passages that stay true to the genre's roots while simultaneously exploring their own uniqueness. The record is a step in the right direction for this new act and will hopefully lead to more experimentation and forward-thinking in the future. Solipsist is heavy, complex, catchy and another much needed splash of color in the tech death scene.
Rating: 8/10
Release Date: April 15, 2016
Label: Unique Leader
Favorite Tracks: "Holographic Principle II: Convergence", "Simulated Reality", "Deus Deceptor", "Dreamsphere" and "Luminary Singularity"
For Fans Of: The Faceless, Aeon and Spawn of Possession