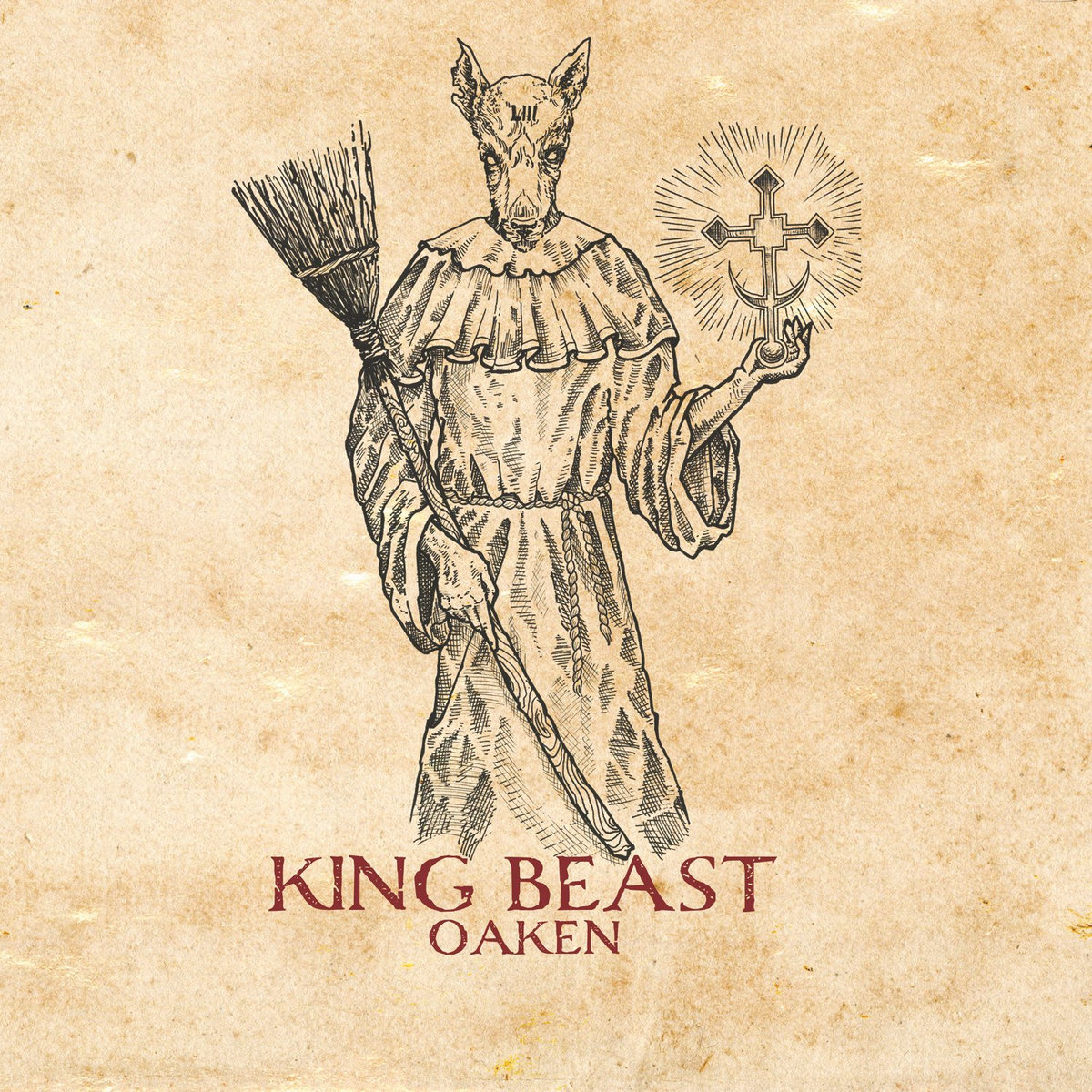 After a couple of split and single releases, Budapest's Oaken finally unleash their debut apocalyptic full-length record. The towering, bestial effort, aptly titled King Beast, is the culmination of roughly four years of steady sonic refinement. Since they released their debut single "The Hunter" in 2012, each subsequent release from the Hungarian quintet gotten more explorative and darker. Composed of menacing, leviathanic sludge infused with ominous atmospheres and hardcore grit and aggression, and armed with intelligent and poignant lyrics inspired by some of history's most vile rulers, King Beast features Oaken's most dismal and enthralling compositions to date.
The 38-minute opus  begins rather viciously on "Monastery". The song stampedes out of a a cloud feedback with propulsive drumming and darkened hardcore guitars. These guitars conjure dissonant, hammering riffs that cycle between muscular chords and splashes of angular outbursts, calling bands like Converge and Gaza to mind. The hardcore inspired portion of this track eventually dissolves into a procession of sludge that grows slower and slower until the track is immersed in a thick wall of feedback and noise. This portion of noise leads into a melancholic climax comprised of a somber clean-guitar led section that is filled with layered melodies and a hollow, soul-wrenching atmosphere.
"Killing Fields" begins its nearly eight-minute stomp with over four-minutes of guitar-generated cacophony and slow-building, primal percussion. Around 4:33 the track explodes into a misanthropic march of sludge, which in turn bleeds into a back-and-forth struggle between dissonant, angular hardcore and blackened doom and gloom. "The Hyena" starts off with a two-minute dirge of psychedelic-tinged post-rock and gloomy atmospheres, before elephantine bass lines initiate a grimy, blackened crust blitz. This metallic assault doesn't last long before the band opt for a tense, menacing bridge that is propelled by Branovics Nóra's (Vex) haunting vocals. This section builds into a post-metal romp of titanic proportions that carries on until the track's fiery close.
King Beast is brought to a close by the 11-minute "Damnatio Memoriae", arguably the album's most consistently intense tune. The track opens up with a relentless barrage of colossal doom riffs that are enshrouded in soundscapes and complimented by atmospheric, tremolo-picked guitar leads. The track eventually transforms from steady, building-crumbling doom, to straightforward sludge groove, to dreary post-metal marches throughout its duration, offering the listener no breathing room. The track brings the album to a close rather chaotically with a fierce wall of feedback and a primitive percussive exhibition.
Oaken's massive debut record is just that, massive. King Beast's nearly flawless blend of doom, sludge and hardcore, not to mention its pervasive bleak atmosphere and tone, makes it a force to be reckoned with. Fans of forward-thinking sludge/doom/post-metal/what have you/ who are unfamiliar with Oaken may want to get acquainted now.
Rating: 9/10
Release Date: February 18, 2016
Label: Alerta Antifascista Records
Favorite Track: "Monastery"
For Fans Of: Neurosis, Rorcal and Celeste