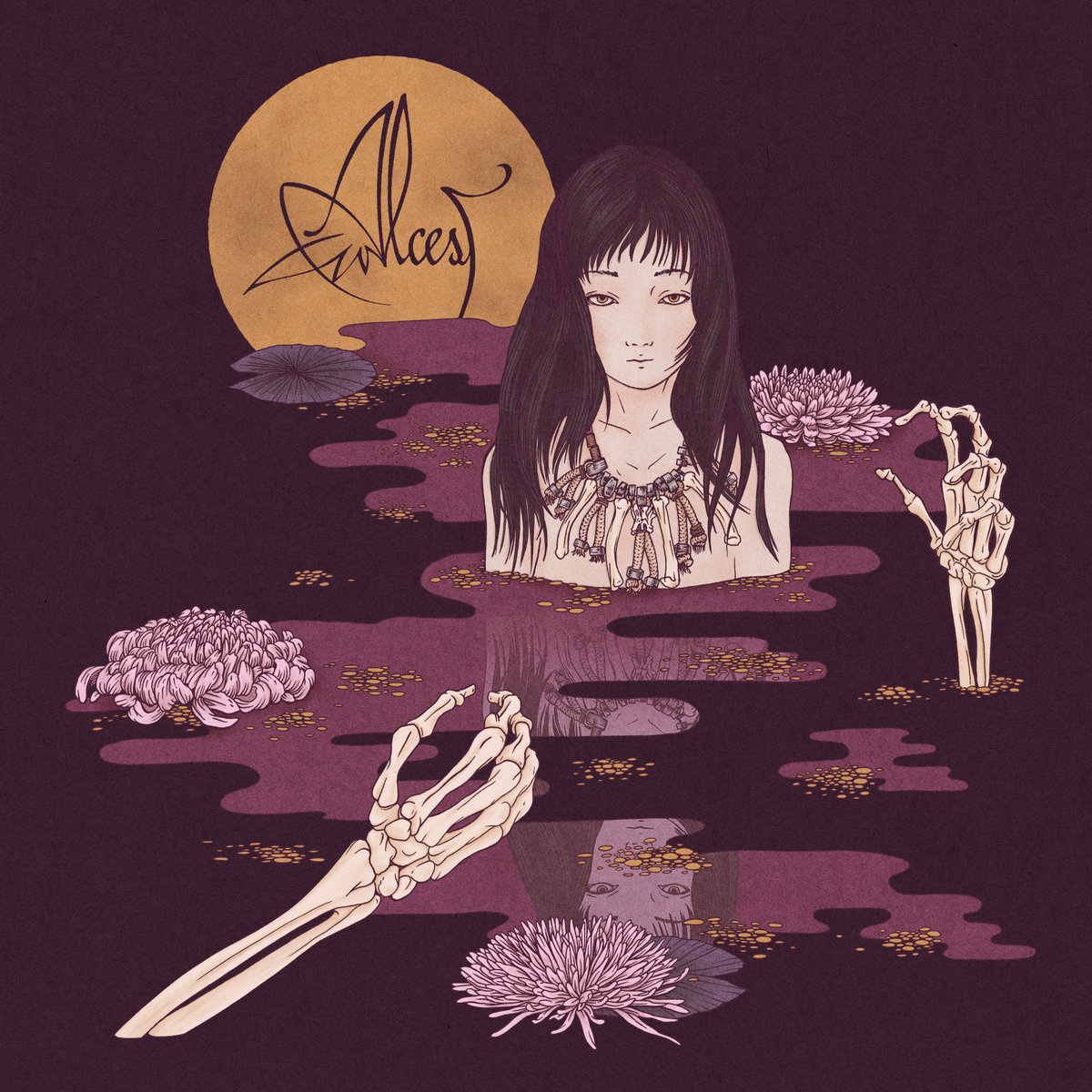 Alcest is often seen as at the forefront of the stupidly, but aptly named, "black gaze" movement. While many bands have attempted to combine the delay drenched spaciness of shoegaze with the raw, visceral sound of black metal, few have been at it longer or more effectively. Alcest took it a bit further on their last release, Shelter. Many people wrote Shelter off as a boring, conventional shoegaze album only worthy of note because it was a stylistic shift by a band who had received a bunch of praise for their pioneering, unique sound. I use the phrase unique because when Alcest first came to be, there were few, if any similar bands. On Kodama, Alcest has taken a step back, but in all of the right ways.
Kodama opens with the powerful title track, shimmering with soothing vocals and gorgeous melodies that quickly give way to tremolo picked black metal influenced riffs and harsh screams. Yes, this is literally what they've done on four of their five full length albums, but somehow, be it Neige's chord choices, or the lack of thematic continuity between songs, Kodama manages to sound fresh. I absolutely adored every other full length they've put out (Shelter included) and while I wouldn't call Kodama new ground entirely, for them or for the genre, it's damn good and very refined. There's not a lot of filler here.
The bulk of the rest of the songs on the album follow a similar pattern, despite a lack of uniform structure. This is by no means to suggest that they are bad, boring, or interchangeable, as some songs on prior releases have been, but rather that they're not broke and Neige cares not to fix them. The last two tracks, "Onyx" and "Notre Sang et nos Pensees", would actually fit on Shelter well. They are effects laden, almost post rock sounding songs that make for a very pleasant listen, and a perfect endcap to the album.
The production is very balanced, and at high volumes, its apparent that while the guitar and vocals are at the forefront, no other instrument is lost in the mix. The flow of the album works very well, and while there is no overlap between any of the tracks, their placement works well. If I take any issue, it's that ending with the two most mellow tracks kind of causes the "not with a bang, but a whimper" effect. I would have chosen a heavier track to end on, but that's just me.
In summation, if you like Alcest, you'll like Kodama. They're not up to any new tricks, but I feel as if their standard bag is working especially well here. Alcest are a band that seem to polarize people and I have no doubt that Kodama will do just that. If you like your metal a bit more polished, and don't take issue with "blackgaze" (ugh I hate that word), you will find a lot to love here.
Rating: 8.5/10
Released September 30th, 2016
Out on Prophecy Productions