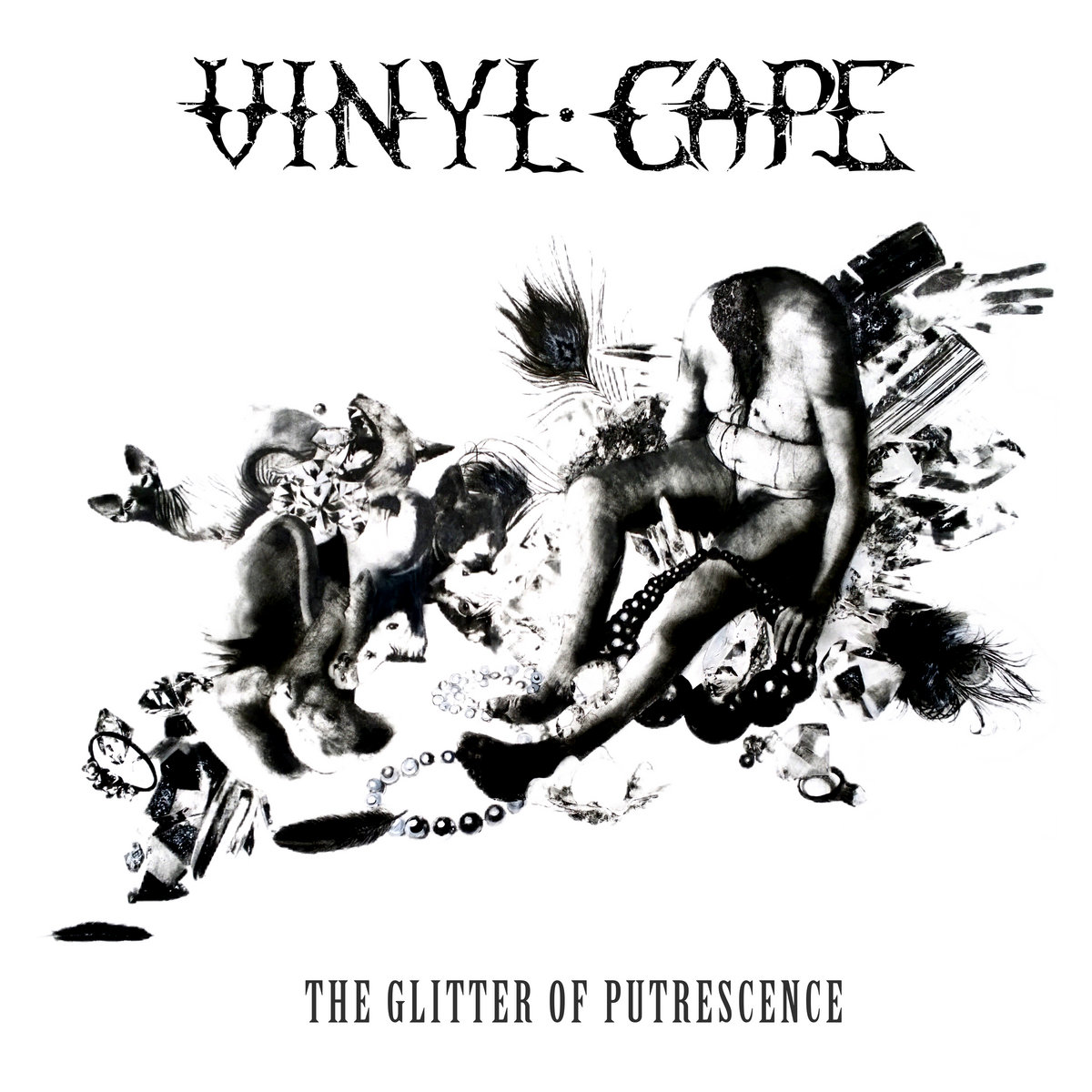 The integration of metal/rock and hip-hop is generally scoffed at by metal's most elite, and for good reason. With the exception of a few acts such as Rage Against the Machine, the ever-evolving Candiria, and the incomparable Beastie Boys, this stylistic combo is usually tarnished by nu-metal theatrics and rampant testosterone. Maine's Vinyl Cape, however, manages to avoid a lot of the pitfalls that others who have attempted this genre fusion have fallen prey to. The band steer clear of the excessively muscular, chugging guitars and tired flows, instead opting for an eclectic mix of instrumentation and vocal techniques. It is a polarizing release that will alienate many with its bizarre premise and rapidly-shifting presentation, but will also draw listeners in for the same reasons. Even those who shudder at the mere mention of "rap rock" will find something of merit on the group's debut LP, The Glitter of Putrescence.
As previously mentioned, Vinyl Cape is stylistically all over the place. It's seldom to find a track on The Glitter of Putrescence that is reminiscent of another. Most of the tracks are almost amorphous, shifting stylistically in shape throughout their duration. At the heart of these multifaceted compositions is frontman Brzowski, whose vocals range from raspy raps, to clean singing, to the occasional growl, and everything in between. The flow of his rapping is steady, concise and is the perfect vehicle for his abstract and tonally nihilistic lyrics.
"Death by Numbers" and "Barren Orchard" open up the record with an anthemic arena rock presence entangled by myriads of intricate and colorful synths, with the latter track delivering Faith No More-esque carnival chaos during its bridge. Brzowski delivers venomous and labyrinthine lyrics through his gruff flow and occasional cleanly sung chorus, while the feverish pop instrumentation marches behind. The industrial crawl of "Sphere of Trash" follows after this one-two punch with throbbing bass lines, sludgy guitar riffs, spastic turntables and Brzowski's guttural growls and menacing cleans.
Other highlights on the album include the catchy "Chthonic Youth", which revolves around an infectious Prince-esque groove that gradually morphs into weirder and noiser shapes as the song progresses. The album's odd and enthralling title track weaves together blackened melodies, crawling guitars, walls of ethereal synths and catchy, storming rock choruses. It's a strange set up that surprisingly works. Closing track "The Severed Head of John The Baptist" is also worth nothing for its Kyuss-esque stoner metal construction and Brzowski's caustic, throat-searing vocals.
But not everything works quite so well on The Glitter of Putrescence, unfortunately. Tracks like "Small Hours" and the industrial metal-meets-southern rock "Roll Over Cerberus" possess a less-than-endearing presence and cartoonish construction that cheapen whatever intellectualism the lyrics may have had. Brzowksi's vocal performances also suffer here as well, as he resorts to forced theatrics that come off a bit try-hard. There are other points on the record that fall victim to these shortcomings as well, but none quite as pronounced as these two cuts.
It is far from perfect but The Glitter of Putrescence gets props for having the audacity to attempt to make music so polarizing as this. It doesn't always work but, when it does, it can be quite entertaining. Vinyl Cape may very well be on to something with this album, and will hopefully continue to expand upon and refine their strengths.
Rating: 6/10
Release Date: September 23, 2016
Label: Independent
Favorite Tracks: "Chthonic Youth" and "The Glitter of Putrescence"