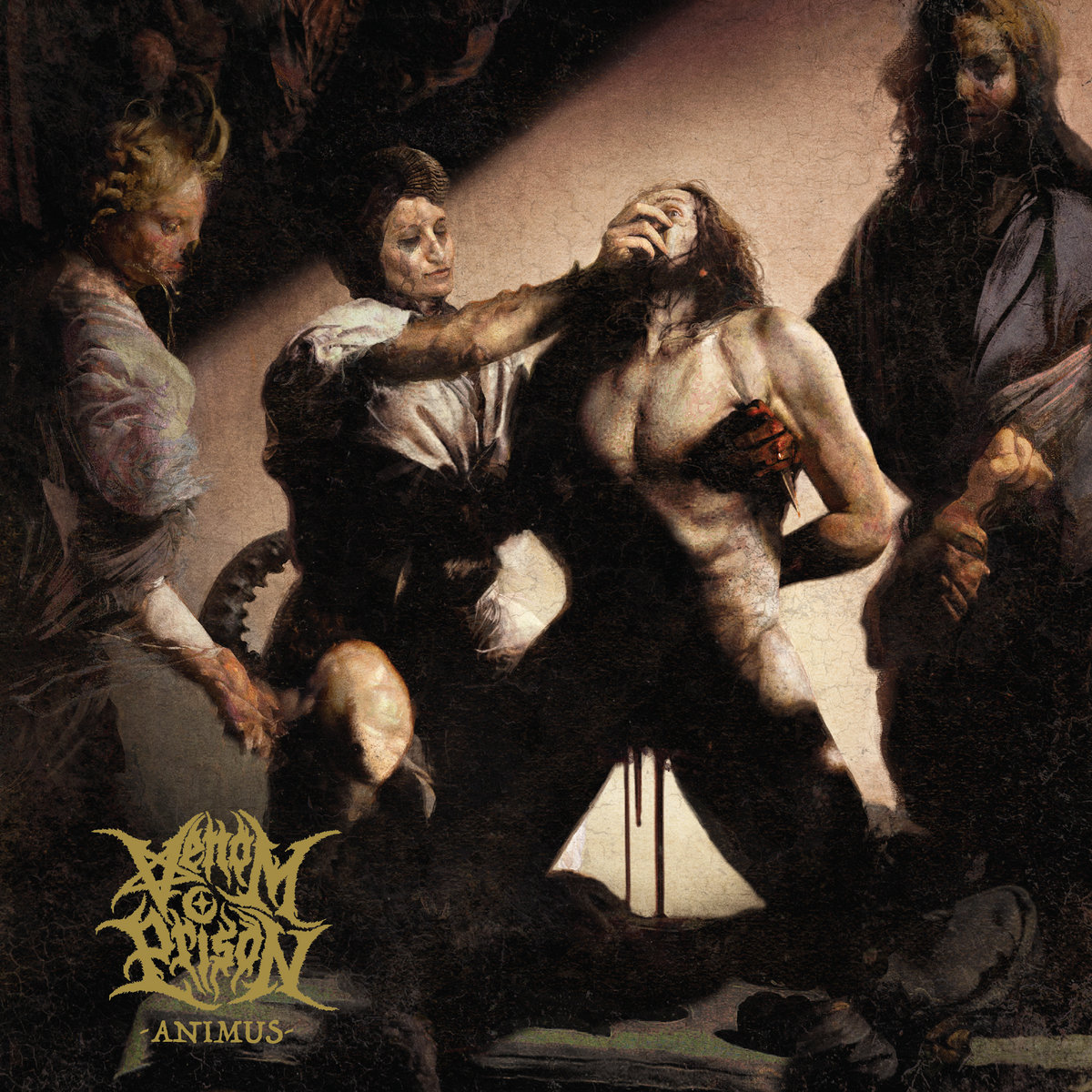 In penultimate track "Perpetrator Emasculation", a rapist is force-fed his own genitalia – a brutal act of retaliation that is suggestively depicted on the cover of Venom Prison's debut full-length, Animus. Imagery like this can be found throughout this UK act's newest release; a socially conscious and brutally savage half-hour of grimy death metal. It's no secret that death metal lyricism and imagery has involved violence against women in the past, so it is refreshing to see the narrative switching and to have such a unapologetic sound as a vessel for such ideas. Venom Prison have only been around for roughly two years , but already have a head start on their climb to the top of the death metal food chain with their interesting take on the genre and potent lyricism.
Venom Prison's blend of caustic death metal embraces the genre's roots, as well as facets of its new breed. The music stylistically shifts feverishly throughout, from disemboweling, tremolo-picked torture, to skull-caving slam beatdowns and everything in between. At the core of this sound is a metallic hardcore heart that, while isn't as pronounced as the music's other characteristics, can be felt pulsating throughout the music. The band toyed with this eclectic and bludgeoning blend on their 2015 EPs Defy the Tyrant and The Primal Chaos, but have been refined and expanded upon for this death-dealing debut.
Animus opens up with a corrosive soundscape on "Syllogism", which is comprised of thunderous bass lines, primal percussion and guitar-generated feedback and noise. This introductory tune paves the way for "Abysmal Agony", which storms out of the gate with a tremolo-picked, flesh-ripping riff that has old school death metal written all over it. But on the drop of a dime, the music rapidly shifts into sludgy dissonance, palm-muted breakdowns and dense, hardcore stampedes. Quick, feverish bits of technical flair often creep in unexpectedly during the song's most pulverizing moments, always keeping the listener on their toes. At the heart of this madness is vocalist Larissa Stupar, whose animalistic growls and shrieks spew acid onto listener's faces.
From there the auditory hell keeps coming in tracks like the tumultuous "Desecration of Human Privilege". The track begins with a lurching, angular riff that is rife with sludge and malevolence, which is intertwined with spiraling, knife-sharp solo work. The track then bleeds seamlessly into chugging, slam death metal-esque instrumentation that gradually becomes a cacophony of hellacious dissonance and angularity. This myriad of guitar aberrations gives birth to final metallic hardcore beatdown that will have the most passive of listeners ready to sucker punch the nearest person. Tracks like "Immanetize Eschaton" in contrast dial back the shape-shifting punishment in favor of sprawling, menacing melodies that writhe and intertwine with each other like a serpent mating ritual. Then the album kicks out short but unsweet assaults like the aforementioned "Perpetrator Emasculation", which unleashes 90 seconds of throat-ripping, gore-splattered brutality. The album closer "Womb Forced Animus" ties all of this mayhem together in a nice five-minute package. The blackened melodic lurches set the malevolent mood for the track, while grinding death, hardcore-tinged thrashing and a surprisingly doom and ethereal midsection showcases the band's versatility.
Animus is a unyielding, menacing and surprisingly volatile release that should give Venom Prison the recognition they deserve. The music is often times unpredictable, especially for a death metal release, and will keep listeners guessing what the next second will bring. Those looking for an extreme metal release that is undeniably heavy, unapologetic and socially aware will have to look no further. Venom Prison is one of death metal's newest gems and should be watched closely in the future.
Rating: 8/10
Release Date: October 14, 2016
Label: Prosthetic Records
Favorite Tracks: "Abysmal Agony", "Celestial Patricide", Desecration of Human Privilege" and "The Exquisite Taste of Selfishness"