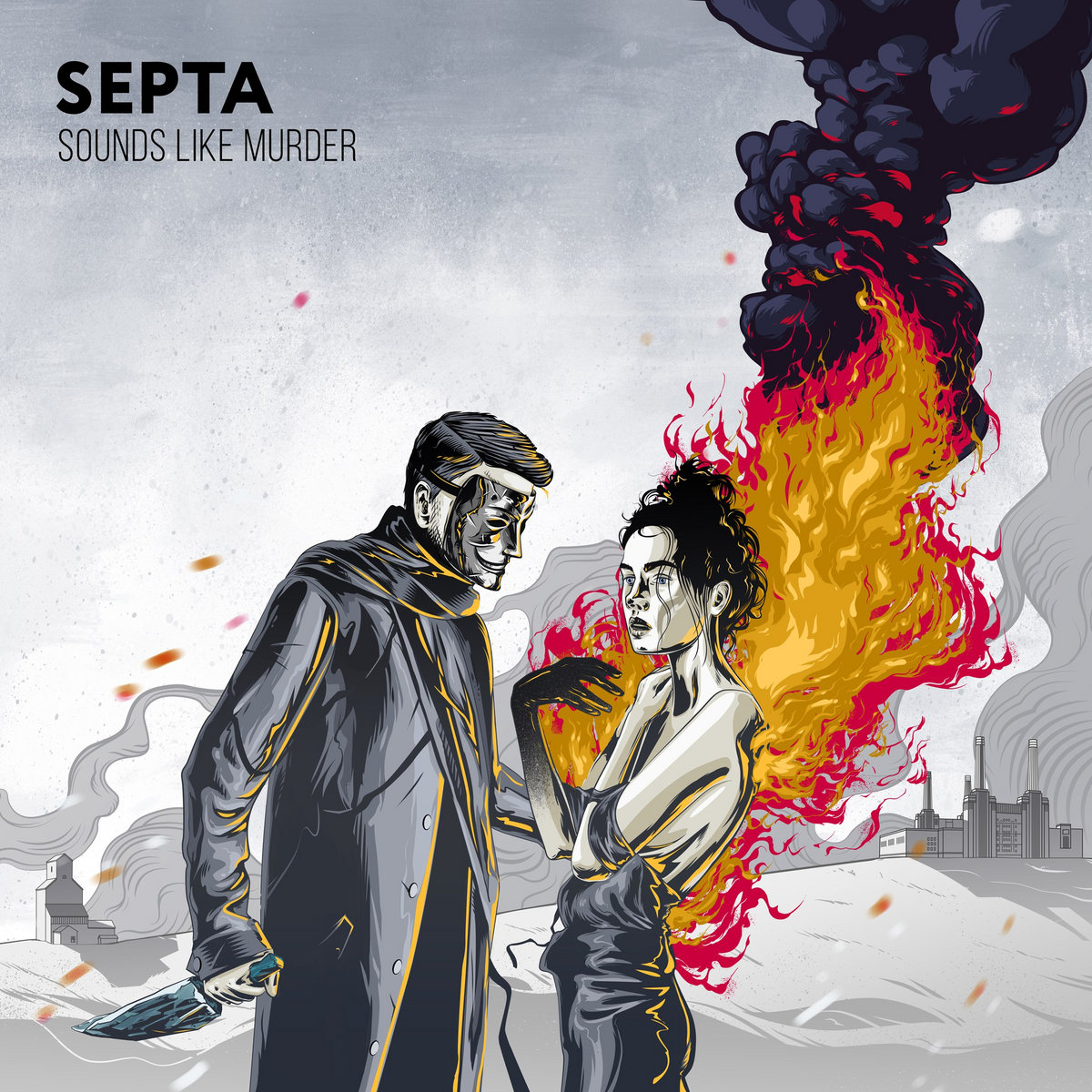 Odessa, Ukraine's Septa have been steadily churning out music since 2010 and have grown exponentially within that short six-year timeframe. Though the band modestly label themselves as an "alternative rock band", there is definitely a lot more going on than they let on. The band have toyed with post-hardcore, mathcore, alternative metal, post-rock, progressive and a plethora of other styles that it would be ludicrous to list them all. The band are not afraid to wear their influences on their sleeves just as they are unabashed to experiment with any genre they get their hands on. This willingness to push forward artistically is a part of what makes their newest full-length, Sounds Like Murder, shine.
This 54-minute effort is a post-hardcore record at heart, as the genre's characteristics permeating throughout, but Septa only use the genre as a jumping off point to incorporate experimentation and unpredictability. The album's first three tracks start off the album strong and really showcase this band's endearing volatility. "11th Omen" starts things off with some slow-churning instrumentation that builds into metallic gut-punches and triumphant choruses. Frontman Eugene Tymchyk's impressive range of clean and aggressive vocal techniques steals the show on this track, and frankly a number of the tracks. Tymchyk is equally capable of injected an infectious into the listener's mind and rupturing ear drums with his throat-searing harsh vocals.
From there the track bleeds into the sprawling "Following", which transitions from tension-building drum patterns and menacing guitar riffs, into a devastating climax of cataclysmic proportions. Then "The Seducer" comes crashing in next with an onslaught of angular, dissonant, frenetic instrumentation that brings bands like Norma Jean to mind. The song's flawless, and gleefully odd transition into a bridge of lounge jazz and back again make it one the album's standout cuts.
But the band continually impress as the album progresses. "Sky Moves Faster" makes quite the impression with its sonic tug-o-war between marching post-hardcore triumph and glacial, floating post-rock soundscapes. "When There Is No Time" begins with a very minimal, ethereal electronic dirge that lulls the listener into a false sense of security before exploding into thunderous guitar riffs and some of Tymchyk's most powerful vocal performances on the record. But the album has more unyielding aggressive cuts like "High Pitch Noise" and "Narcosis" for those who desire to punched repeatedly in the throat by chunky mathcore delight.
The only negative cut on the record is "Means, Motive and Opportunity". This track is a rather lifeless electronic tune whose only redeeming quality is that it is brief. The beats trudge along dully while Tymchyk give a very uninspired vocal performance, making the track seem like an afterthought more than than anything.
Sounds Like Murder is essentially a culmination of everything the band has done to date. The record is boasting with post-hardcore drive and a bit of mathcore chaos, but dips its toes into various other styles without hesitation. The album's frequent genre-bending could have come across as messy and forced if it weren't so firmly rooted in the band's core sound. Septa have expertly crafted a unique release that readily shows off its influences while avoiding a lot of genre conventions. With Sounds Like Murder, Septa have set the bar pretty high for themselves and it will be interesting to see what they do next.
Rating: 8/10
Release Date: November 30, 2016
Label: Independent
Favorite Tracks: "11th Omen", "The Seducer", "Sky Moves Faster", "Ropes", "When There Is No Time" and "Narcosis"
For Fans Of: Norma Jean, Deftones, Glassjaw and Faith No More