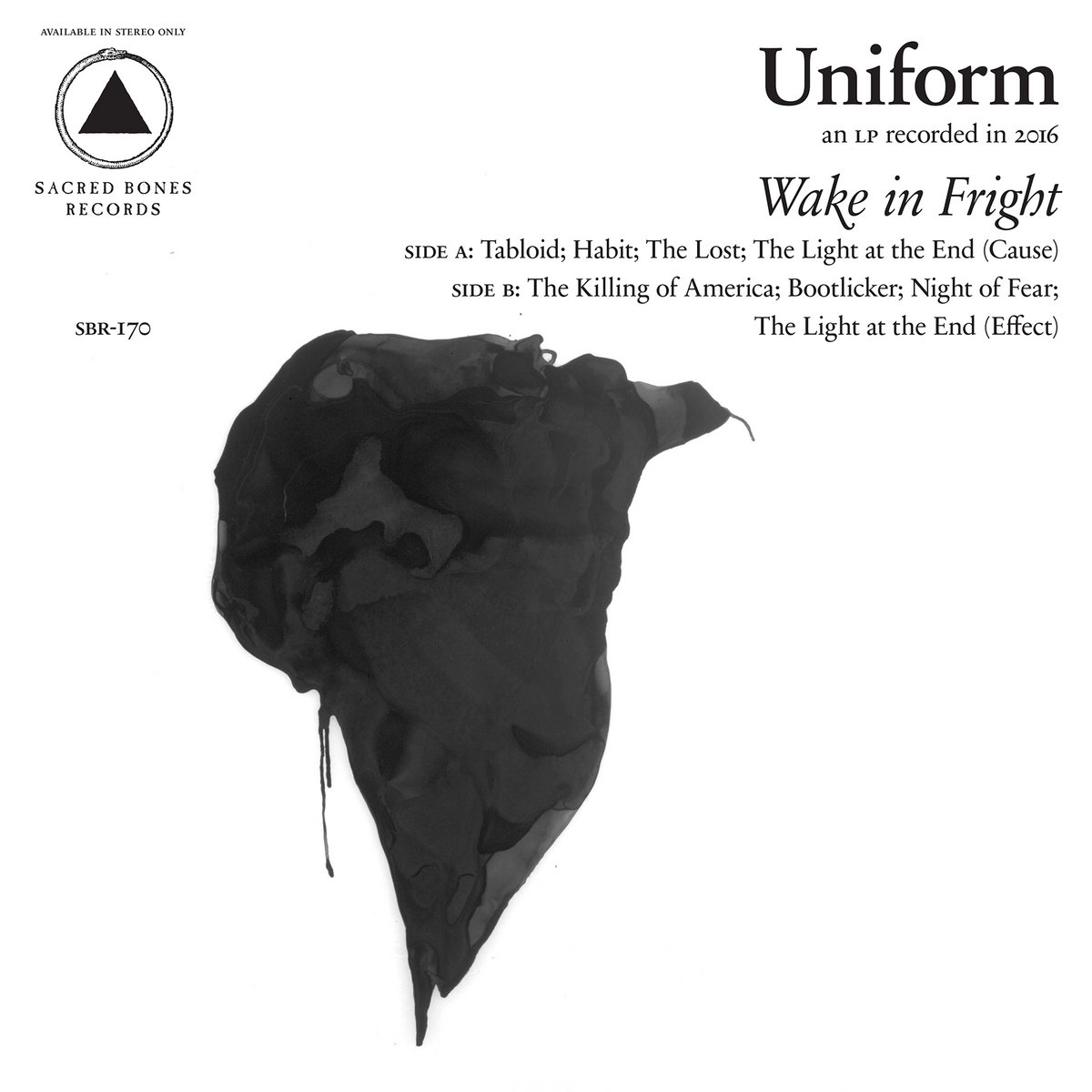 It's Nine Inch Nails' Pretty Hate Machine tortured by Godflesh's Streetcleaner. It's a collection of aberrated Ministry songs produced by Steve Albini and fronted by Johnny Rotten's psychotic evil twin. It's the sound of a science-fiction-bred war machine malfunctioning from the inside. It's stories of people at the end of their ropes set to the sounds of seedy, industrial violence. This is Uniform's sophomore full-length Wake in Fright and it is fucking vicious.
Uniform is comprised of New York noisemakers Michael Berdan (ex-Drunkdriver, et al) and Ben Greenberg (ex-The Men, et al). Berdan weaves tales of despair and misanthropy and delivers them with a venomous, throat-searing shout. Greenberg conjures corrosive guitar riffs, complete with AmRep tone, and programs aural rhythmic warfare with a collection of detonating bombs and gunshots. Together, the duo create a wall of visceral violence that mixes elements of hardcore, thrash, harsh noise and industrial metal.
Wake in Fright follows the duo's 2015 debut, Perfect World, and their 2016 Ghosthouse 7″. While Perfect World's power electronics and doom metal sonic orgy fell prey to a meandering pace and Ghosthouse, while a step in the right direction, felt lacking, Wake in Fright shows Uniform perfecting their sound and out for blood.
Opening track and debut single "Tabloid" sets the pace and tone for this 38-minute sonic bombardment. Greenberg churns out a death-dealing, hardcore riff that is soaked in fuzz and distortion. The drum machine unleashes pummeling, mechanical hell that is infused with various electronic shrieks and hisses. This cyborg grunge assault is topped off with Berdan's anguished punk-meets-raving lunatic shouts. This track will weed out the faint of heart and the ones left standing are in for a treat.
"Habit" follows next with a lurching industrial crawl faithfully accompanied by sprawling, dissonant guitar riffs. But during the song's climax, the band abruptly switch from slow-and-low to bouncing rhythmic splendor complete with a bluesy, stoner metal adjacent guitar riff. Tracks like "The Lost" and "The Light at the End (Effect)", in contrast, tend to keep the pace slow and steady throughout. But these two tracks maintain separate identities as the former comes across as a synthpop tune crafted in Hell, while the latter is a lumbering industrial doom number drowning in atmospheric malevolence.
The triple-threat of "The Light at the End (Cause)", "The Killing of America" and "Bootlicker" showcase Uniform at their most aggressive and punishing. "The Light at the End (Cause)" storms out of the gate with machine gun bursts of robotic rhythm and thrashing, cacophonous riffs that assault the listener for roughly 60 seconds before ending with a lengthy sprawl of noise and concussive sonic booms. "The Killing of America" and "Bootlicker" are both wrought with cardiac arrest-inducing percussion and chugging, thrashing riffs and ripping solos. Each of these three tracks comes crashing in one after the other, insuring the listener has no time recover.
Wake in Fright drops listeners in the middle of an auditory war zone and forces them to fend for themselves as bullets and shrapnel fly. It's an intense and bleak listening experience that is unrelenting in its abrasiveness. Uniform have crafted a soundtrack to a world on the verge of collapse, a world that may be closer to fact than to fiction.
Rating: 8/10
Release Date: January 20, 2017
Label: Sacred Bones Records
Favorite Tracks: "Tabloid", "The Killing of America" and "Bootlicker"
For Fans of: Godflesh, Ministry, Pharmakon, Prurient and Wreck and Reference